Arizona to Extend Marriage Rights to Gay Couples
Today, October 17, 2014
Arizona's Attorney General Tom Horne said today 10/17/14 that he is not going to challenge the federal courts decision which approves same-sex unions in Arizona.
After the news broke several gay couples began to line up at the Phoenix city courthouse to marry immediately.
Attorney General Tom Horne stated he fought the ruling as far as he ethically could and that his decision was based on a legal conclusion.  "There's no chance of a reversal and it would be unethical for me to file an appeal that had no chance of success." said Tom Horne.
Below is Tom Horne's letter to clerks, giving them the green light to grant marriage licenses to gay couples.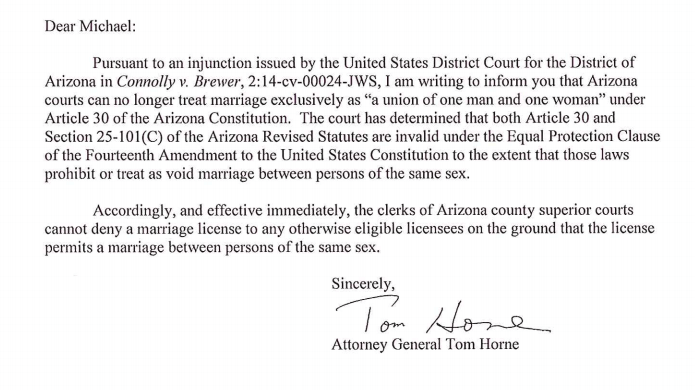 This ruling is quick to follow the Arizona Supreme Court's decision to view Thomas Beatie's (transgender man) marriage from Hawaii as valid so he could get divorced in Arizona.  This has been a very big year for marriage equality in the state on Arizona.
If you have a legal questions on gay marriage in Arizona please call the Cantor Law Group at (602) 254-8880 or set up a free initial consultation online.