William Harrison
Family Law Attorney
---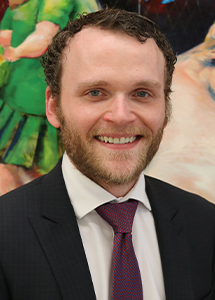 EDUCATION
University of South Florida

Bachelor of Arts, Philosophy

Arizona State University, Sandra Day O'Connor College of Law
BAR ADMISSION
PROFESSIONAL ASSOCIATIONS AND MEMBERSHIPS
State Bar of Arizona, Family Law Section
Maricopa County Bar Admissions, Family Law Section
Will Harrison was born and raised in Florida. He attended the University of South Florida in Tampa, where he majored in philosophy with a minor in psychology. This choice of curriculum was based on Will's affinity for logic and his desire to achieve a deep understanding of human nature. The knowledge that he acquired during his time at USF informs his approach to family law practice to this day.
After graduating with honors from USF, Will moved to Temecula, California to get married and start a life together with his wife. He spent a few years working in commission sales, which honed his capacity for persuasion and motivated him to learn how to interact with and relate to people from all walks of life. However, Will knew that his dream since childhood was to become an attorney. Thus, after acclimating to his new life thousands of miles away from where he grew up, he knew it was time to realize that dream. To that end, Will accepted an offer of admission with a generous scholarship to the Sandra Day O'Connor College of Law at Arizona State University. During his last semester, he worked as an extern for a Phoenix insurance defense firm. While at ASU, Will dedicated himself to learning as much as he could from the school's extraordinarily knowledgeable professors. This included taking a course in family law taught by Judge Bruce Cohen, Presiding Judge of the Family Department of the Maricopa County Superior Court and one of Will's favorite professors.

"Good listener, knowledgeable, compassionate. My experience with Will was amazing. There are a lot of things about my case that are very difficult to talk about with another person let alone someone I don't know."
After earning his Juris Doctor degree, Will worked for a firm in Mesa. He initially worked as a criminal law clerk, but eventually transferred to the family law department. In the approximately two years that he spent working on family law cases and communicating with family law clients, Will knew that he found a practice area to which he could dedicate his legal career. His exposure to criminal law gave him valuable experience to prepare him for cases wherein the two practice areas intersect. However, through the time he spent working with family law clients, he found his most powerful source of motivation: his passion for guiding clients through the most tumultuous time of their lives.
That passion led Will to join Cantor Law Group, where providing clients with that guidance is central to the firm's mission. Will thrives on complexity, whether that complexity derives from issues of property division, custody, or both. He dedicates himself to outsmarting and outworking the other side. At the same time, Will understands the emotional nuances of a family law matter and always keeps that in mind when interacting with and fighting for his clients.
In his free time, Will enjoys spending time with his wife, their dog Penny, and their cat Mooze.
FREE INITIAL CONSULTATION

(602) 254-8880