Natalie Marchese
Administrative Assistant
---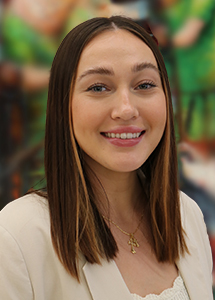 Natalie Marchese is an Arizona native, born and raised growing up in the West Valley. She started her
undergrad at Siena College in Albany, New York. She played Division 1 softball at Siena College, finishing up her junior year and then transferred back home to finish her senior year at Grand Canyon University.
In the past, she worked at Arie Layne Boutique, a small local business in Goodyear, Arizona. Arie Layne was a women's clothing boutique that focused on empowering and supporting women in communities. Before Arie Layne she worked at Caliber Home Loans for two years processing home loans throughout the United States.
Here at Cantor Law Group, she works alongside the Administration Team, focusing exclusively on family law issues. Her roles include calendaring, taking live phone calls with clients, making sure everything is filed, and communing with the legal teams daily.
Away from work, Natalie enjoys hanging out with her family and friends. She plays pickle ball every Saturday morning with her family and enjoys spending time the most with her 5-year-old nephew, Jeremiah. Jeremiah loves to play with monster trucks, likes to get fro-yo and to watch his favorite shows with Natalie. With her friends, who make up a large foodie group, they try to go to dinner weekly to new fun restaurants in the phoenix area. If Natalie is not with her family or friends, she is most likely in her room binge watching Gossip Girl.