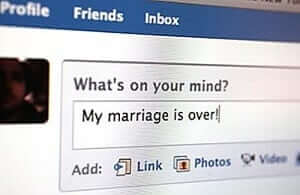 Years ago, married people who wanted to get in touch with old flames or badmouth his or her current spouse would hide their actions, knowing that this type of behavior would anger his or her spouse and might be used against them in a divorce case.
Cheating spouses would hide receipts, letters or phone calls from someone other than his or spouse. Angry spouses would hide their anger in public, only talking privately to friends. Today, social media sites like Facebook, and to a lesser extent MySpace and Twitter, are full of posts from people connecting with past lovers, flirting openly or badmouthing current spouses. Some people have begun to label these splits a Social Media Divorce.
Facebook and other social media websites do not make people look up old flames or find new people to have an affair with but they do make it very easy to do so. A person may write a letter to an old flame, then decide it is a bad idea, and never mail the letter. Now, once a message is sent on social media, it is too late to reconsider.
A person who is angry with his or her spouse can post nasty comments about him or her and hit post before thinking about what they are saying. If the person simply vented to a friend, his or her spouse would never know but now, millions of Facebook users see these comments and the offended person feels obligated to take action.
Social media influences child custody cases as well as divorce cases. A person who posts pictures of him or herself using illegal drugs or drinking can expect those pictures to show up as evidence that he or she should not have custody.
Anyone who engages in an extramarital affair and makes the evidence public via social media should expect this evidence used in his or her divorce case even if they use Facebook's privacy settings. Family law attorneys are experienced in how to use Facebook evidence, including advising their clients on how to gather evidence that the court will consider.
If you are contemplating divorce, do not provide the perfect digital evidence for your spouse's divorce attorney. Don't flirt, brag or badmouth your spouse, even if you change your privacy settings. Spouses can "friend" one of your friends and see everything you have posted. In addition, do not let anyone take a photo of you engaging in any inappropriate behavior. Potentially incriminating photos will show up on image searches if they are tagged, even if you delete them from your profile.
The Cantor Law Group has experience with Social Media Divorce cases and also experience in using private investigators and forensic computer analysts to assist in gathering information in a divorce case. If you would like to speak with a Divorce Attorney for free, call us at (602) 254-8880 to schedule a free consultation. You can also use our secure and confidential email form to contact us too.